For kids 19 and under, this program takes an approach geared toward training the competitive climber. The team practices year round every Tuesday and Thursday from 6:30 – 8:30 PM. Kids can join at any time during the year. Competitions start at the local level and proceed to the World Cup level.
Open to all kids who want to take it to the next level. Visit www.usaclimbing.org for more information about the organization.
Non-Members:……………………………………………………… $90 / month
Members: …………………………………………………………….. $75 / month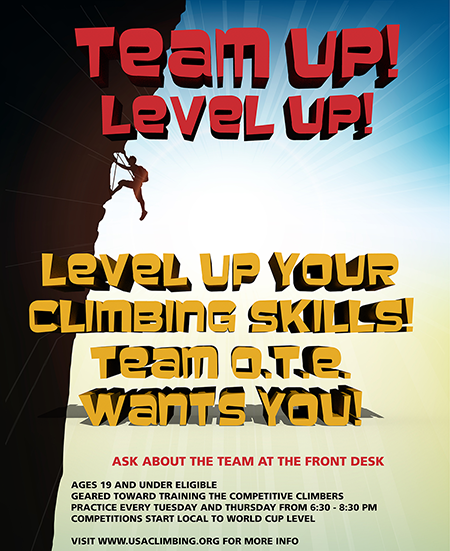 Climbing Waiver
Waiver Required For Everyone to Enter Climbing Area - Parent / Guardian Must sign for Minors.
ADDRESS
200 West Drive Melbourne, FL 32904
PHONE
321.724.8775
HOURS
Mon, Wed 2pm - 9pm
Tue, Thur 11am - 9pm
Friday 2pm - 10pm
Saturday 10am - 7pm
Sunday 1pm - 7pm